Exclusive Interview with the Principal of Highgate Junior School, Mr Mark James

Mums in the wood had the pleasure of meeting with Mr Mark James, the charismatic, witty and very personable Principal of Highgate Junior School, on 30 April 2018. With a lively personality and a clear love and passion for his job, it is easy to see why Mr James is such a popular head with his students, the staff and the parents. He is completely involved in every aspect of the school from heading up the "walking bus" – an initiative to help busy parents and reduce traffic congestion in the area – to sitting in at the Parent Association Meetings. He is there at the gate, every morning, greeting his students by name and waving to parents. He has been described by parents as "never without a smile and always approachable" and has the  ability to command the utmost respect from his pupils while also being absolutely loved by them.
An overflowing jar of jelly beans handed out for crests and commendations which are given out for good work and good behaviour stands in his office and encourages children to always not only do their best but also be the best version of themselves they can be. He and his very competent staff have cultivated an atmosphere of kindness and support among the students and bullying is almost non-existent in the school. A box labelled "Random Acts of Kindness" encourages students to do something everyday that will make someone else's day a lot better. The children then write out what they did  and post it anonymously in the box. These acts are then randomly picked out and appreciated, fostering an attitude in young children that encourages them to care about each other and shows them that treating each other with kindness is always the better choice. These little touches show that while academics are important, this is not all the school is about and that it has gone that extra mile to ensure that the school produces students who grow up knowing what it means to be good human beings and good citizens. 
Having been the Principal since 2002, Highgate Junior School has flourished under Mr James' expert guidance. He has overseen many of the changes at the school that have resulted in it now, being, one of the most sought after, selective co-educational schools in London. Having started his career at Wellington School in Somerset Mr James modestly and laughingly admitted that he has always been influenced by two strong women in his career choices. First his mother, who insisted he apply to Wellington when he was recovering from a rugby injury which had put an end to a promising rugby career and then his wife, who encouraged him to apply to be the deputy head of Junior School at King's College Wimbledon. A choice which led to a career dedicated to shaping the lives of younger children.  After having taught seniors and A/level students for 13 years, he "loved it" and found the experience, "invigorating."
Mr James has also taught in both the state and private sector. However, he decided to stay in the private sector as he enjoyed the independence he could exercise within the curriculum hools. Teaching in a diverse number of schools from Villiers High to Emmanuel, Tiffin to Dulwich, Wellington and King's Wimbledon has enriched and contributed to his vast experience. He has also guided children across a variety of disciplines from water polo to advanced level subjects. As head of Liberal Studies at Dulwich, he managed in the 6th Form courses other than A/Level. He has not only taught English but acted and directed plays and is proud to count several oscar nominees, including Sally Hawkins and Chiwetel Ejiofor among his students.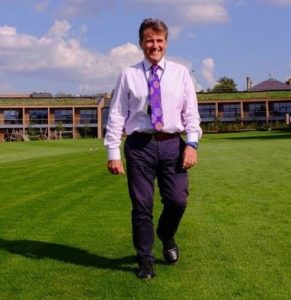 Question:
Highgate successfully made the transition from being an all boys school to a co-educational school under your guidance. What was the rationale behind that decision and how do you feel it has affected the school's position in the league tables?
Answer:
Highgate took the decision to become a coed school in 2000. I arrived as Principal of the Junior School in 2002. We took our first co-ed cohort into Year 3 in 2004. Governors recognised that there was interest in and, at the time, limited provision for a coeducational, academically selective independent day school in this part of North London. Highgate concluded that it was in a good position to meet this need and that the change was right for the school.
Academic league table performance was not a consideration at the time the decision was taken and this remains the case today. However, we strive to be the best school we can possibly be in all areas. Academic success is one measure, but it is by no means the most important or the driving factor.
Question:
What do you feel are the benefits of co-education over single sex teaching in schools and what would you say to parents who feel that while co-education benefits boys, girls are better off being taught in a single sex environment?
How would you reassure parents who worry that a mixed education may prove to be a distraction during the teenage years?
Answer:

I would much rather approach the questions in a slightly different way and say that children will thrive and flourish in a school where they feel safe and happy, one that is well run, has a clear vision, offers stimulating and interesting teaching and is constantly striving for excellence.
The way in which a school chooses to be organised is therefore of secondary importance. You can have outstanding coed schools and outstanding single sex schools so conversely you can have poor examples of either too! I am confident that Highgate is an excellent school and all children, irrespective of gender or any other difference, are nurtured and guided to be the best young people they can be.
However, from my perspective, co-ed is the right way. Teachers should adapt their teaching to the different learning styles of the individual children in front of them. Some girls are highly competitive and love science and sport. Some boys love art and drama. One should be very cautious about making gender stereo types. The argument that girls perform better academically in single sex schools is only true in schools that are already highly selective. It is not therefore a fair and reasonable observation.
Having both boys and girls allows us to address issues of sex and relationships, responsible use of social media and other social/emotional issues in a nurturing, safe and collaborative co-ed environment.
When parents are doing diligence visiting schools and making as assessment for what is best for their child, if there is little to choose between two schools on pastoral care, extra curricular provision, academic achievement and ethos, then why would a family choose single sex over co-education?
Question:
You will be offering the 9+ for the first time this year. What are the general expectations the school has from children who will be sitting the exam?
Answer:

The  9+ assessment will be offered for two consecutive years.  Children will sit written tests in literacy and numeracy and then take part in some group activities and problem solving.   Our expectation is that children joining will be performing at a similar level to those already in the Junior School.
Question:
You have, in the past said publicly, that Highgate welcomes applications from summer borns. What about the 7+ application process, do you feel requires you to make that specific point?
Answer:

Children who are August born can, of course, be almost a year younger than other children who are being assessed for 7+.  It is therefore reasonable, fair and logical that some allowance is made for this.  Our written papers are age standardised as a consequence.
Question:
Do you think that as the school gets larger, academic standards may suffer? Are there plans for the senior school to add any more classes per year?
Answer:
I go back to the point I made about the coed versus single sex debate. The way a school is organised is of secondary importance and not directly linked to the quality of teaching and learning. There are no plans to increase the size of the Senior School, but we would not have increased the size of the Junior School if we did not think we could and would provide the same high quality experience for the children. The new school was designed and built for the number we will have in it from September 2020. Our aim is that academic standards and the quality of everything we do will continue to improve.
Question:
Highgate is one of an elite group of schools that maintains its place among the top echelons of schools in the country. Each school has its own personality i.e. an image, a reputation, an attraction for a certain type of parent and each suits particular kinds of children. What is the personality of Highgate School that you want to portray and do you think the school is perceived in the manner you want it to be?
What would you change if this is not the case?
Answer:

Our aim is that by the time children leave the Junior School, they are confident independent learners.  We want them to develop a sense of thoughtful service toward each other and the wider community, alongside an enthusiasm for being fully engaged in the life of the school.  The feedback we receive from current and prospective parents strongly suggest that whilst we cannot be complacent, we are on the right track.
Question:
Given the competitive nature of entrance exams into schools like Highgate, do you think that it is realistic to expect parents to not tutor their kids? What is your stance on tutoring?
Answer:

We all know that it is good practice to be prepared for any test or assessment we undertake.  However, it is never a good idea to over tutor or over prep for entrance tests and our tests are not designed with that approach. Parents should be aware that creating a false impression of a child's ability with excess tutoring for an admissions exam can cause longer term problems when tackling an academic curriculum throughout a school career and should bear this in mind when making a decision to get external help. Children attending independent prep schools should not, in addition to this, be tutored, but some sensible and balanced preparation, particularly in exam technique, is always worthwhile.
Question:
With respect to private schools, an ever increasing pressure on schools to achieve excellent results at exams, coupled with unfathomable ratios at entrance tests/assessments, has made entry into 'good' private schools extremely competitive and difficult. What do you think is the impact of this on children with SEND who can function in a main stream environment and have parents who want them to attend certain schools but who may not be able to sit a competitive entrance exam?
What are Highgate School's policies on learning difficulties, children with SEND and children who are Able and Gifted?
Answer:
Highgate welcomes applications from anyone who is able to access Highgate's academic curriculum, providing that any special needs that a child may have can be supported by the school. It is important that parents are open and honest from the outset however. Any parent interested should contact the Director of Admissions directly before making an application for a place. The school can make appropriate provisions for such children to be supported in exams (if the needs are those that can be supported by the school's current facilities) provided that copies of medical and educational psychologist reports are made available.
Children with English as an additional language will also need to demonstrate that they have a sufficient command of English to cope with a curriculum which is delivered in English. Again however, allowances will be made if notice is given well enough in advance and all enquires should be made to the Director of Admissions.
All gifted and talented children are identified early on and appropriately extended, challenged and supported with both before and after school clubs and in the classrooms.
Question:
What is the school's policy on settings in Math and English and how does the school manage parent expectations vs children's abilities when deciding on settings?
Answer:
It is a key aim of the Junior School Development Plan that there are no glass ceilings for the children in any area of the curriculum.  We do not want any child to leave the Junior School thinking that they are 'no good' at Maths or any other subject.  For this reason, we have no overt or explicit academic setting.
They are too young to be labelled and setting can lower their expectations of themselves We prefer to concentrate on development and encourage independent learning. It is much more important to make sure children are stretched and sufficiently challenged than it is to set them in groups. We believe that the strength of  a good teacher is that they will have the ability to teach a range of pupils with different skills and different learning styles. We are confident that our schemes of work, good planning and excellent quality of teaching ensures that those children who demonstrate particular speed and aptitude are suitably challenged and enriched.  At the same time, those children who may require different strategies or support in order to progress, are provided with this.
Question:
Are there any particular challenges that you have faced as headmaster of Highgate Junior School?
Answer:
I was very pleasantly surprised that the school embraced coeducation so wholeheartedly and positively when I had expected this development to present greater challenges. Of course every day presents challenges and not every good idea or initiative is completely successful. It is a willingness to embrace challenge and accept that you don't always get everything right that enables everyone to grow and move forward. We feel this lesson is important for the children and all members of the school community to take on board.
Question:
What do you feel are the qualities essential for a Headteacher to efficiently and successfully run a school while also being very popular with students, staff and parents?
Answer:
I hope you will understand that this is a question for parents, pupils and staff to answer, not me.  That said, a sense of perspective and a sense of humour are absolutely essential.  Overriding this must be a genuine and sincerely felt passion for guiding young people and wanting to get to know them as individuals.  If you sincerely believe in the power of education and if you love your job, then being a headmaster is not a difficult job.
Conclusion: 
Highgate Junior School is impressive. There's no taking away from that. Whether you visit in the summer when the sun streams in from the glass windows all around the building or in the winter, when it still seems to retain the light,  the brand new building with its spacious, light and airy classes, dedicated DT Rooms, Art Rooms, Science Labs and music rooms, dance studios and gym, has a great feel to it. Sculptures of insects, reptiles and amphibians dot various points of the school walls, floors and ceilings and are a  constant source of interest to the children.  In addition to this, the enormous grounds that are spread on either side of the school,  the classrooms with glass balconies overlooking the vast green fields, the beautiful, unique and very creative art work that hangs from the ceilings and adorns the walls all contribute to a sense of peace and serenity in spite of the happy babble of noise of excited children in the playground.  The heart of the school, according to its' headmaster is, that it is "a school for the community where we are all pulling in the same direction.  A happy place to be in." Something that rings true to any visitor. 
A genuinely warm, charming and friendly head, Mr James is responsible for admissions for the whole school.  Yet, he remains incredibly honest and remarkably humble. His staff of  young, vibrant teachers together with their more experienced colleagues form an excellent team. Their genuine interest in each individual child, their innate ability to seem to really understand their students and understand each child's needs, sets them apart. Mostly professional parents, working in the city with the usual sprinkling of celebrities and children tend to come from all around Hampstead, St John's Wood, West Hampstead, Finchley and the suburbs. 
Highgate is heavily oversubscribed at every stage and sheer numbers mean that in the pre-prep, not every applicant is called back for an assessment at nursery level. Furthermore, competition at the different entry points is so fierce that it does sometimes mean that siblings will not always be offered a place as entry depends solely on merit and performance at the exams. The school's academic standards are high and children are challenged appropriately according to their abilities. The children themselves are a lively bunch, interested and focused on what they do. Children have indoor and outdoor lessons and learn via a  combination of exploration and text books. With maths, the school has shifted to using the Singapore Math method to teach the younger classes.  A multitude of friendly challenges keep children stimulated and interested and what is most noteworthy is the extent to which all the children support each other in all of the huge variety of activities on offer. There is a wonderful atmosphere of solidarity that has come from an ethos of genuine care and consideration for each other and an acceptance and celebration of differences. 
All in all, the school thoroughly deserves its reputation for being very strong both academically and pastorally. Mr James, is a truly inspirational head who, there is no doubt, has and will continue, to take the school to new heights under his very able guidance. He has clearly  achieved his adage, "Education is transformational" throughout the school creating an atmosphere where children are truly happy and love learning.