Interview with Mr Mark Beard, Headmaster, University College School
Mums  In The Wood met with Mr Mark Beard, headmaster of University College School (UCS) on 6th June 2018. Sat in his beautiful wood panelled study, it was easy to see why the school had thrived under the leadership of Mr Beard. Mr Mark Beard, head of the senior school, is an affable but ambitious head who has under his leadership tightened discipline, uniform policies and the focus on academics. Having studied Chemistry at Oxford, Mr Beard joined a research group shortly after and worried about losing his sense of self in the corporate world, Mr Beard started his teaching career at King Edward's school in Birmingham. He then went on to take a position as the Head of Chemistry at St Paul's and subsequently was appointed  deputy head at Brighton College before becoming the Head of UCS. Asked about a single sex v co-educational environment, he was clear that he felt that a single sex school in the younger years had many positives like the boys developing more self confidence through drama and singing by having the confidence to be themselves. "The boys socialise well amongst themselves and have enough opportunities in the later years to interact with girls when they go to the sixth form" he said.  
Having heard of UCS when he was teaching at St Paul's, as part of the Eton Group of Schools, initially Mr  Beard had come to UCS as part of a Chemistry conference. When he joined the school, he felt he wanted refresh what a "liberal education" meant when he joined UCS. He was firm that "liberal" did not mean being sloppy or rude or not punctual which is why he felt the need to enforce stricter discipline all round, especially in relation to the dress code. He had a definite aim and vision for the school when he joined which is what he is putting into practice and parents do seem to be on board and happy with the changes. 
He is a popular head and parents and students seem extremely appreciative of his clear and careful headship. With Oxbridge candidates on the rise under his headship, he has also introduced a much more varied number of subjects for GCSEs and A/Levels and also a much greater emphasis on performance in sport and all round.
Mr Beard has recently also done away with the 13+ exam while the 11+ remains. The decision has been taken to ensure that the new students coming in at 11+ have an extended period of time at the school and are fully immersed in the ethos of the school and are thus able to make good use of the academics and teaching at UCS for a longer period. 
Mr Beard was clear that there was no one type of UCS personality but the school was diverse, inclusive and understood that each pupil was his own person. Differences were celebrated and Mr Beard was keen to mention that they had both the sporty and artistic and some who were a combination like rugby players who had a keen interest in drama and boys who excelled in sport but also in art or music with the music and drama departments maintaining a phenomenally high standard. "Boys are encouraged to play sport with pride and not just to win" he also added. 
Like most heads in the area, Mr Beard did not want parents to over tutor their children with  the admissions process in mind. He observed that an over tutored child will eventually be an unhappy child if they cannot be able to maintain or keep with the pace of the school if the tutoring stops. This is counterproductive both to the academic and social life of that child and the school. The tests at UCS therefore have been designed specifically with that in mind. He did understand however, that for children whose first language was not English or for children who may have other challenges or for children falling behind, tutoring may provide an acceptable support system.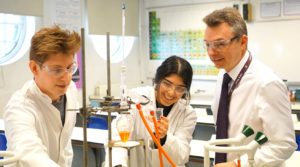 Question:
Being one of the most oversubscribed schools in the area, what do you look for when assessing candidates at both the junior school and the senior school and how do you make the decision between children of similar abilities? Is there a difference between what you look for in the younger candidates versus the older ones?
Answer:
We look for a minimum threshold of ability in Maths, English and Reasoning because we follow a fast-paced, broad and busy curriculum. At interview we are interested to meet engaged and engaging young people who we feel would flourish with our style of education and contribute in some way to the life of the school.
Question:
UCS has in recent times done very well in the league tables. How important do you feel this is, as a consideration, when parents are trying to decide between similar schools with similar offerings in terms of academics and extra-curriculars? What changes at UCS do you think have led to the improvement in your position in the league tables?
Answer:
The league table position is out of our control, since it depends on how other schools do and what statistics are used. What matters about our public exam grades is that they are in accord with our expectations and aspirations for any given cohort of UCS children. Discerning parents will appreciate that the quality of an overall education, which must include personal development, cannot readily be quantified and ranked. Our advice is to visit a school to better understand the opportunities available for developing intellect, morals and an appreciation of the aesthetics.
That said, we are obviously pleased with our recent league table placing but selecting a school should not be simply based on a league table position. We are proud of the distinctive education we provide. Our teachers are passionate about their subjects and about their teaching. Every child is treated as an individual which gives them the very best possible chance of flourishing, whatever their strengths and interests. The breadth of subjects taught in the classroom is enviable. In the Lower School (Years 7 and 8) our pupils are now taught dialectics which looks at the philosophy of learning and education; then, in contrast, dance is now taught alongside drama in these year groups. Pupils are allowed to specialise which "creative" subjects they learn at Year 9 and the range of languages they can study (French, German, Spanish, Italian, Mandarin, Latin, Ancient Greek) is impressive. At GCSE studying all three sciences is not compulsory, which gives our pupils the chance to pick subjects which they excel in and enjoy. The range of subjects available in the Sixth Form is even wider and the addition of Psychology as well as History of Art to the curriculum in recent years has proven popular.
The young men and women of UCS leave with a passionate desire to succeed in whatever they choose to do. This attribute is obviously promoted in the classroom but is further developed by our exceptionally strong pastoral team. In the Lower School, each form tutor is supported by a Year Head and pupils keep the same tutor for two years. From Year 9, pupils are assigned their Demes (Houses) and a form tutor will stay with their class until at least the end of year 11. A Deme Warden oversees children in their Deme from Year 9 to Year 13. This continuity enables pupils to build a strong relationship with these vital teachers and so they receive the very best support. Deme Wardens have a reduced timetable so that they can commit a vast amount of time to supporting their charges and their parents throughout the school.
We feel that our Academic Enrichment programme at UCS is very special. For example, once a year, each subject runs an Enrichment Week that gives pupils another opportunity to broaden their experience of that subject away from the curriculum. Our Morris Lecture Series (academic lectures delivered by teachers on subjects well beyond normal school topics) are extremely well attended and are so successful that the staff now deliver these lectures at our partner schools. In the Sixth Form, Friday afternoons are given over to university-style non-examined courses. These courses are designed in-house, and enable students to go beyond exam specifications, most typically in the area they wish to study in higher education. Courses are offered in all subjects, as well as other specialist areas such as Medicine and Engineering, and the Sixth Form have benefited hugely from these.
Question:
Many parents feel that the 11+ exam in particular for boys, is a complicated process with different schools deciding on different formats of the exam. With so much criticism in the press about the pressure on children sitting competitive exams, how important do you feel it is for exams like the 11+ to have a standardised format across the country?
Answer:
Each independent school has evolved effective methods for discerning the pupils they want to make offers to and, being a free market, it is likely to prove difficult to move to a one-size-fits-all admissions approach shared between lots of schools. That said, the majority of schools do have the same focus on Maths, English and Reasoning. Groups of schools do work together to try to minimise unnecessary complications where possible, for example in agreeing dates for assessments, offers and acceptance deadlines. One way parents and their schools can help is in being sensible and realistic over the number and type of schools their son is put in for.
Question:
Children from UCS Pre-Prep still need to sit the 7+ to gain entry into the Junior School. However, children in the senior school do not need to sit the 11+  exam. Do you see this requirement in the junior school changing any time soon and will an automatic entry for internal candidates be on the cards in the future?
Answer:
There is no plan to change either of these two aspects.
Question:
Is there any setting in the Junior School? If so at what age does it start and how frequently are children assessed? Is there room for movement between sets depending on each assessment?
Answer:
The value of setting in any academically selective school, where the range of ability is fairly narrow, is debatable. Indeed, the most common outcome is that children in the bottom set become demoralised. There is no setting at the JB, although staff are able to differentiate and set additional challenge work for boys who are hungry for more. Similarly, at the senior school, we only set in Maths where it is indeed possible for boys to change sets at periodic intervals during the year.
 Question:
As the head of a mainly single sex school, how do you balance the social aspects of very different boys learning together and to what extent (if it does) does it give rise to instances of bullying? How is this dealt with?
Answer:
The level of bullying in a school is a reflection of the strength of the relationships and is not connected to the gender. UCS pupils value one another as fellow humans and, by and large, maintain very positive relations between themselves and their teachers; our PSHE programme helps remind pupils of why being civil and kind is important. Our pupils, like many young people, do not always get it right all of the time and we use a blend of disciplinary and pastoral strategies to resolve any incident. The pupils know that persistent, systematic bullying – in the cyberworld or the real world – leads to that child being permanently excluded from our community.
Question:
What is the rationale behind offering co-education only in the sixth form and not throughout the school? What would you say to parents who look for reassurance from the idea that the introduction of girls in the sixth form may be a cause for distraction at a rather crucial time in the academic calendar?
Answer:
This year we celebrate ten years of co-education at UCS and we are delighted with the success of this. The introduction of girls at 16+ has not brought any distractions and has improved the experience of all pupils in the school. The girls who join UCS seek co-education in preparation for university and beyond that, the work place. In this regards, the boys who have been with us lower down the school obviously also benefit from their arrival. All our new students who join us at 16+ (some boys also join at this point) benefit from the extremely small tutor group sizes that we have in the Sixth Form which means their academic progress and well-being can be carefully monitored and nurtured. These small groups also make it easy for these new students to get to know the established pupils and they quickly build a strong rapport with their form tutor and Deme Warden. This enables them to get the very best support for their university applications which is one of the most important decisions they make in their life.
Question:
Being a competitive and academic school,  to what level does UCS provide support for children with special needs within the school (both for children with SEND and those children who are Gifted and Talented) and are there any provisions made when external candidates sit the entrance exams?
Answer:
We have a Learning Support team who assess any particular learning needs and helps to ensure that both the child and the teachers are aware of the best relevant practice to ensure the child flourishes. It is worth remembering that parents must ensure that any learning needs are declared in advance when their child applies to UCS, in accordance with our Admissions Policy. Our teachers are also adept at providing stretch and challenge to all their pupils throughout the school and there are a number of formal opportunities for the development of academic enrichment and scholarship. Our approach to this can be flexible and dynamic. For example, a group of Year 11 mathematicians, who having taken their GCSE maths exams a year early (and who all secured the very top grade) were taught topics which allowed them to access questions from Cambridge STEP papers. (exams usually taken by only the most able Year 13 students)
Question:
Do you feel that parents should rely on the respective schools to prepare their children for competitive exams to the exclusion of tutors?  What is your stance on tutoring, given that competition at entrance exams in the area is fierce and parents are often resorting to tutoring to gain a competitive edge?
Answer:
Our entrance tests and interview process are designed to negate the effect that any tutoring may have on a child's application. The risk to the child who is over-tutored is that he may struggle at his new senior school when the tutoring scaffolding is taken away.
Question:
What do you feel makes a school successful? What qualities do you feel the staff and the head of a school should have to work well together?
Answer:
A school is at its most successful when staff, pupils and parents are aligned with what is trying to be achieved. Chiefly this requires clear communication between all parties as to what the aims of the school – and the means by which they are achieved – are. This in turn requires a careful balance between managing the here and now, versus keeping an eye out for the future. As well as being able to conduct open and honest levels of communications, I would rate having a sense of humour as a key quality!
Question:
Does the school get its students involved in community projects? What types of social community activities are open to students?
Answer:
The local community is at the heart of much of what we do at UCS. The school traditionally places a very high value on community work and our volunteering scheme and charity fundraising ventures are often asked about by parents at open evenings.
We have strong links with local state secondary and primary schools and a large number of our Sixth Form students act as teaching assistants at these schools on Friday afternoons. This scheme is hugely popular with the schools and our pupils benefit hugely from this type of work. Pupils who do not take part in this scheme spend Friday afternoons volunteering at other local community projects – conservation work on Hampstead Heath and supporting the residents at Jewish Care and Spring Grove care homes have been very popular this year. Pupils in younger year groups carry out their own volunteering projects through the Duke of Edinburgh Award and a number of Year 9, 10 and 11 pupils have been involved in running maths breakfast clubs at nearby primary and secondary schools. We currently run a summer school with Highgate School which gives able Year 4 pupils a chance to extend themselves in both the classroom and the sports field.
Pupils of all ages are encouraged to lead and take part in charity fundraising schemes. Much of this fundraising is done during the second half of the autumn term which we call "Community Action". The range and variety of fundraising schemes is testimony to the creativity and the entrepreneurial spirit of the pupils. Recent activities have been talent shows, pantomimes, dancing competitions, sponsored overnight cycle rides…the list could go on. All these schemes usually raise about £30,000 in that six week half term. Other events happen at other points in the year. For example, four Year 12 pupils asked the pupils to donate food on the first Friday in October which could be donated to a local food bank. 3 tonnes of food and toiletries was collected on that day and this was the largest single donation North Paddington Food Bank have ever received.
UCS runs a number of trips which enable pupils to contribute to charities overseas. Before embarking on all of these trips, pupils carry out a number of fundraising activities. Monies from these activities are donated directly to the charities and are not used to fund the trips.
The trips are:
o  Around forty Year 12 pupils every year travel to Romania during their summer holiday to work with the Hands of Hope charity. This charity supports the people of Jibou and our pupils gain a huge amount from supporting the community for a fortnight. Year 13 pupils often return the following summer (and subsequent summers).
o  Eight Year 13 pupils travel to India every October to work with El Shaddai Charitable Trust for a fortnight. The charity provides education, clothing, food and often a roof to children in poverty. This is a blog about last year's trip:  https://ucsinindia2018.wordpress.com/
o  A number of our leavers travel to Uganda every year to work at Equatorial College School which was setup fifteen years ago by a former UCS student.
Conclusion:
UCS is a school steeped in history with buildings dating back to 1907. A history that seems to be recorded in the very walls of the school, from the beautiful wooden panelling to the carved cornices and high ceilings, a history that has evolved to produce well rounded young thinkers and academics into an ever changing world. 
The newly redeveloped library has much in common with university libraries and includes study areas as well as discussion areas, technology areas and little pods for collaborative learning. The learning space, attached to the library has been designed using research done by Cambridge University into what such a space should look like and includes moveable desks and boards with students having the facility of writing on the desks and walls when engaged in group discussions or when presenting to their fellow students  and also have the added advantage of being able to  change the entire room around to fit the lessons very easily.
The new sports fields near the Hocroft estate with its overwhelming pavilion and 12 changing rooms is an impressive sight. The sheer extent of the sports grounds, with space for football pitches, rugby fields and tennis courts is quite breathtaking and there are plans for even further development to bring the fields to an international standard. The school grounds themselves are also deceptively large extending at the back to tennis courts and gardens tended for by the various year groups.
Community involvement by the students is expanding and more volunteering opportunities for the students have become available leading to an impressive 7000 hours of community service throughout the school. 
Around 60 means tested bursaries are on offer at the school. An academic enrichment programme that includes a more exploratory curriculum and teaching techniques that are not merely exam focused is also now available. 
The school is doing well and its place in the league tables is rising. A great school with young, dedicated and enthusiastic teachers who enjoy going well beyond the curriculum when teaching. Having met the very enthusiastic Assistant Head , Mr Edward Roberts, it is easy to see why UCS students are inspired and engaged and why their results are as good as they are.