Music teachers for children
Introducing a young child to music is one of the greatest gifts you can give. It has been proven time and time that reading and studying music at a young age has a far reaching impact on cognitive and academic performance. Below is a list of independent music teachers, who I have personal experience of and have found to be beyond excellent. They are wonderful with children and have a real gift for teaching. 
I will also be featuring music teachers who have been highly recommended to me. Please understand that the intention is to spread the word about excellent music teachers who understand children and enjoy teaching children. So if you do know of anyone, please let me know so that I can help other families looking for good teachers. 
If you would like to recommend someone, please do get in touch by emailing me on contact@mumsinthewood.com
Thank you.
PERSONAL RECOMMENDATIONS
Chris Lloyd – Pianist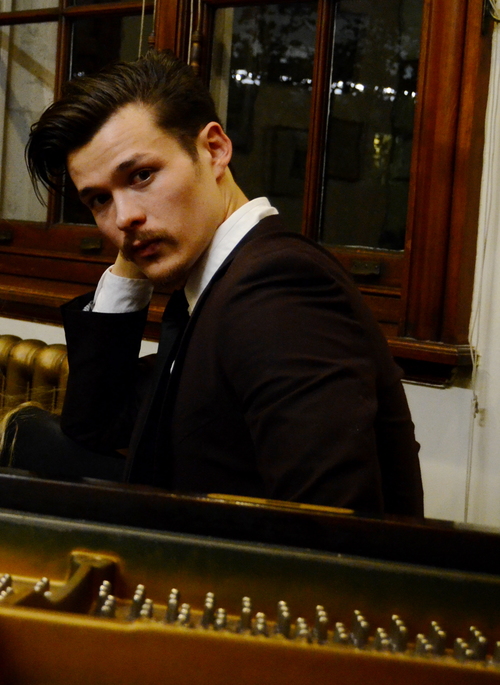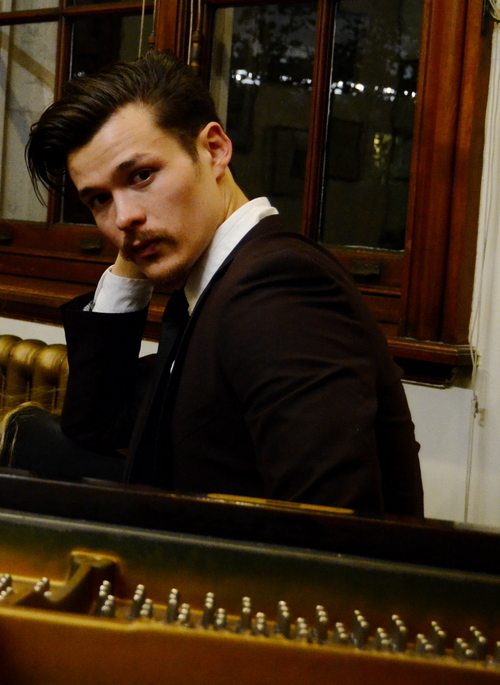 Australian Concert Musician, Chris Lloyd, pianist, recently completed study at the Royal Academy of Music, London, where he graduated with a Master of Music under principal tutor Rustem Hayroudinoff, having completed a Bachelor of Music (1st Class Hons.) at the Elder Conservatorium of Music, Adelaide.
He has performed throughout Australasia, North America and Europe, winning several awards along the way. In 2011, he was a member of the highly acclaimed Ménage à Trio, which toured New Zealand and Australia, and performed Poulenc's Concert Châmpetrè with the Adelaide Youth Orchestra. Throughout his studies in London, he was supported by the Ian Potter Cultural Trust and the Elder EMR Scholarship.
CL is primarily interested in developing new performance techniques in line with the ever-changing cultural demands of the 21st Century. Crossmodal collaborations form a bulk of this work; with explorations in experiential art conducted with cooks, visual artists, perfumers, production designers, mixologists, photographers, fashion artists, filmographers and scientists, amongst several others.
Aside from performance work, CL is working with the Australia and New Zealand Literary and Arts Festival, curating several performances and events featured in the 2015 Festival at King's College, London. He will also be giving masterclasses at the Universities of Oxford and Cambridge, and in 2014, launched his own Management Company, operating in Artist Management and Experience Design. In 2015, he is working on #the100project – 100 performances in one calendar year – let the fun begin.
Chris aims to inspire the next generation of music listeners and performers by presenting the highest quality product in the most contemporary and valid way.
Telephone: 07761 061580
Website: http://www.chrislloydpianist.com/
---
Katy Ovens – Flautist (also teaches Recorder for younger children)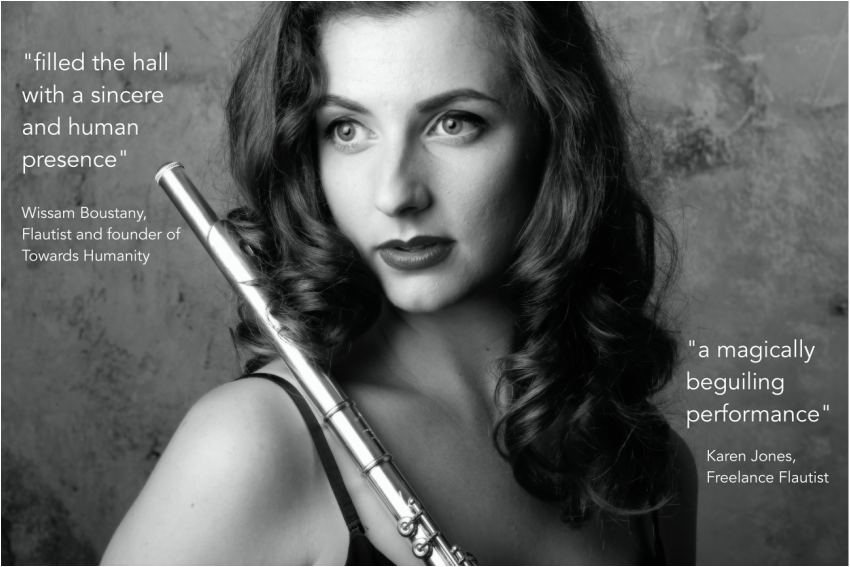 British flautist Katy Ovens recently completed her studies the Royal Academy of Music, London, where she graduated with Distinction as a Master of Arts and was additionally awarded the Academy's prestigious DipRAM for an outstanding final recital.
Katy performs regularly both as a soloist and ensemble player throughout Europe, collaborating frequently with her Duo partner and pianist Chris Lloyd, as well as harpist Anne Denholm and her quintet Cavendish Winds. She has won numerous awards, including the Una Clark Young Artists' Trust's Jellinek Award, for which she performed the Ibert Concerto with the Guildford Symphony Orchestra, second prize in the British Flute Society's Young Artist Competition, and for two consecutive years has been a prizewinner in the Jonathan Myall Piccolo Prize. As an orchestral player, Katy was principal flute with Westminster Opera for their 2014-15 season and regularly performs with the Constella Ballet Orchestra, Melos Sinfonia, Ensemble Eroica, Aldwych Sinfonia and Orchestra Vitae. Later this year, Katy will be working as a Teaching Assistant for The 30th William Bennett International Flute Summer School alongside Denis Buriakov in Sale Marasino, Italy.
Katy graduated in 2013 with first class honours in music from the University of Manchester where she studied with Linda Verrier. While there, she was Principal Flute of both the University of Manchester Symphony and Chamber Orchestras, as well as the Vaganza New Music Ensemble. She performed as a soloist playing Nielsen's Flute Concerto with the Symphony Orchestra in 2012, and the UK premiere of Goebbell's Toccata for Piccolo and Teapotwith the Vaganza New Music Ensemble in 2013 . Katy was Principal Flute of the National Youth Chamber Orchestra from 2009 to 2012, coached by Melanie Ragge, Lisa Nelsen and Robert Manasse.  She won a place at Le Domaine Forget Académie internationale de musique et de danse in Quebec in 2012, where a panel of Canadian flautists chose her to perform in a masterclass with Emmanuel Pahud.
During her time at the Academy, Katy studied with William Bennett, Clare Southworth and Kate Hill and piccolo with Patricia Morris and was generously supported by the Nan Copeland Scholarship and the Countess of Munster Musical Trust. She has worked with conductors such as Edward Gardiner, Trevor Pinnock, David Zinman and Gareth Hancock and performed in masterclasses with Emily Beynon, Katherine Baker, Michael Cox, Aldo Baerton, William Bennett and Paul Edmund-Davies.
Recent performances have included Don Giovanni with Westminster Opera Company at Château du Panloy in France; duo performances in the Two Moors Festival and Academy's 400+ Recital Series; Copland's Appalachian Spring for 13 instruments at Saddler's Wells with the Consteall Ballet Orchestra and internationally acclaimed dancer Nancy Osbaldeston; joining Florian Mitrea as part of Cavendish Winds at Etchingham's Music Festival; performing the premiere of Geyer's Bronze Garden at the New Art Centre; and an exciting collaboration of haute cuisine, sound and perfumery with The Crossmodalists at the Penguin Café Orchestra's London den.
In her spare time, you will probably find Katy looking for Danish people to try out her new vocabulary on, avidly discovering new and exciting recipes to try and buried in books in coffee shops London-wide.
Telephone: 07837 145962
Website: http://www.katyovens.com/
---
RECOMMENDED BY OTHERS
Aizhana Nurkenova – Pianist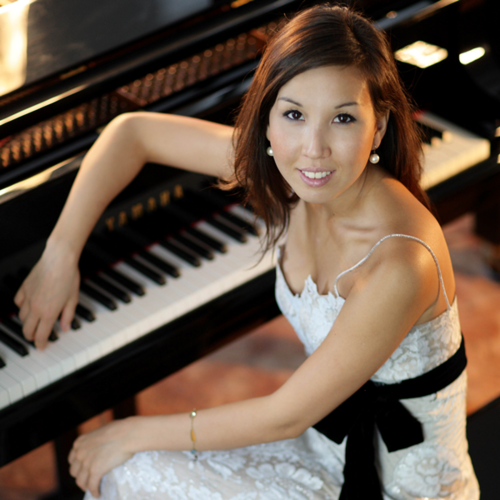 Hailed by International Piano Magazine as 'exhilarating' and 'singing to heaven', Kazakh-born pianist Aizhana Nurkenova is active in many concert venues around the world and currently resides in London. Her recent performances include solo recitals in Italy, Kazakhstan and the UK and chamber recital appearances at the Royal Festival Hall in London and the Juilliard School in New York City. Since she was appointed Soloist of the Kazakh State Philharmonia in 2009, Aizhana's concerts in her home country are in high demand and regularly broadcast on the national channels 'Kultura' and 'Khabar'.
Aizhana was 12 years old when she made her debut appearance with the Kazakh National Symphony orchestra performing Mendelssohn's Piano Concerto. Winner of several national and international competitions, Aizhana studied with the legendary Trio di Trieste (Italy) and at the Royal Academy of Music (London) under the guidance of Professor Hamish Milne. Aizhana gained the top mark in her Final Piano Recital and received First Class Honours and Distinction in Bachelor's and Master's Degrees at the Academy, where she was later awarded the Hodgson Piano Fellowship. She is a recipient of the Musicians Benevolent Fund Award, the Bolashak Presidential Scholarship, the Gilling Family Scholarship and the Winifred Christie Trust Award, amongst others.
Aizhana's masterful technique and rich musicality were praised in a wide range of repertoire. Whilst noted for her interpretations of the classic romantic composers, her special interest lies in the music of J.S. Bach. After winning the Harriet Cohen and Harold Samuel J.S. Bach Prize from the Worshipful Company of Musicians in 2009, Aizhana has vastly expanded her repertoire of Bach and often gives recitals dedicated solely to the works of the great composer.
Aizhana is also a talented composer. She was seven years old when her mother discovered her composing at the piano, which led Aizhana to give an outstanding audition at the Special School for Gifted Children in her hometown of Almaty. Aizhana's works have been performed in the UK, Kazakhstan, Italy and Australia, recorded on CD and broadcast on radio and television.
Telephone: 07908 860775
Website: http://www.nurkenova.com/
---
Lydia Gosnall – Recorder player, flautist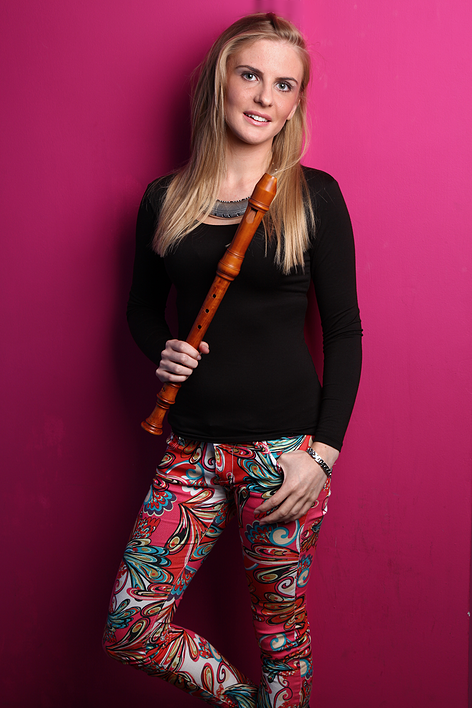 Lydia was one of the first students of the Guildhall School of Music and Drama to give a final recital in the Milton Court Concert Hall, where she gained a Distinction in her Master's degree as a recorder player and historical flautist, taught by Ian Wilson, Pamela Thorby and Robert Ehrlich and Katy Bircher, respectively. Previously, she was a Specialist Musician at Wells Cathedral School, where she studied with Katriina Boosey.
As a soloist, Lydia has given performances in The Stone Forest, Yunnan and the Xinghai Conservatoire, Guandong in China, as well as in Wells Cathedral and at The Carl Dolmetsch Centenary Weekend, Birmingham Conservatoire. She was one of four musicians selected to perform in the National Gallery, following its 'Performing Through Art' competition and was invited to premiere a piece written for the Barbican's Silent Film Festival. She shared the excitement of the Olympic Opening and Closing Ceremonies, having been selected to perform primarily as a drummer!
Lydia's recorder quartet, Palisander, was delighted to be awarded a recital at the Royal Greenwich International Early Music Festival, in the Conservatoire Class of the North London Music Competition. In 2012, the group won The June Emerson Launchpad prize for chamber groups and was selected by Fiori Musicali  to give a recital in Stationers' Hall, as part of the International St Ceciliatide Festival. As part of the group's educational work,Palisander enjoyed working with The Wigmore Hall, giving workshops and concerts for children. The eight piece recorder consort, Woodwork, in which Lydia performs, was invited to give a series of concerts in Israel as part of The Tel Aviv International Early Music Seminar 2012. In the past, Lydia's chamber performances have led her to perform in venues such as Wilton's Music Hall, Goldsmiths' Hall, Southwark Cathedral, Christ Church Spitalfields, St Martin-in-the-Fields and the Karamel Club. She has also performed in the Grainger Festival, Kings Place and The City of London Festival, as well as on radio.
 Earlier this year, Lydia gave performances with Southern Sinfonia, directed by Sir Roger Norrington. She has performed with Guildhall's Baroque Orchestra in The London Handel Festival, The Amadé Players at the Foundling Museum, as well as with Les Bougies Baroques  and Eboracum Baroque  orchestras, both as a recorder player and historical flautist. Lydia has also performed alongside the Academy of Ancient Music, as part of the orchestra's AAMplify scheme. 
Telephone: 07954583595
Website: http://www.lydiagosnell.com/
---
Lydia Aoki – Pianist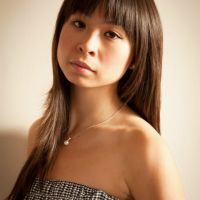 A highly experienced piano teacher and performer, and she has been CRB-checked. She believes every student is different, and aims to tailor her lessons according to how she feels the student learns best. She teaches any level and complete beginners are welcome!
I frequently accompany professional musicians and am also very experienced in accompanying for ABRSM and Trinity exams, after having worked for numerous schools – privately accompanying for exams and school concerts. I am am happy to accompany all levels of instrumentalists and singers, and can come on the day of exams without rehearsal – if preferred, or to rehearse beforehand.
If students would like to do graded exams, Lydia will usually use the ABRSM syllabus, but is happy to continue with the Trinity Guildhall syllabus, if that is what the student has already been using.
Feel free to contact her for further information, and if you would like to book a consultation lesson.
Telephone: 07882796077
Email: Lydiaaoki@hotmail.com
---
Sam Leak – Jazz Pianist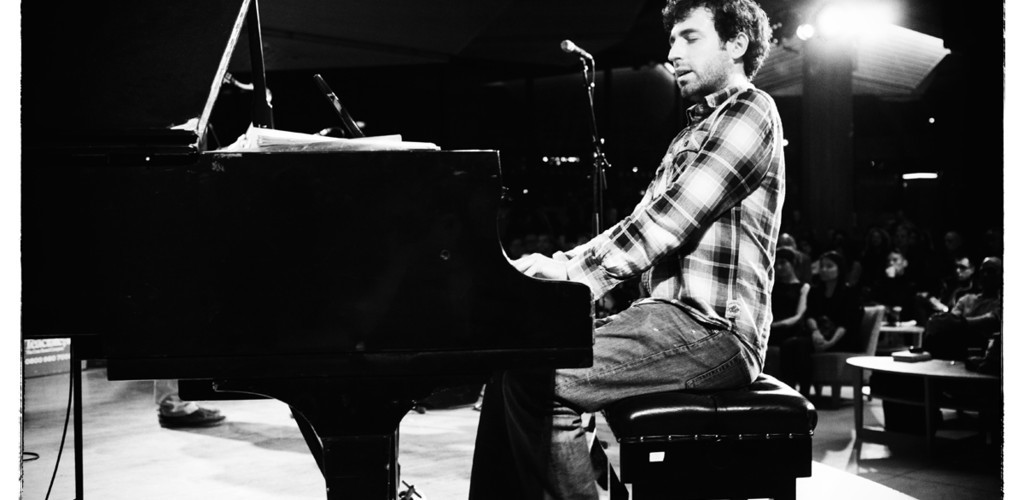 Sam Leak (29) is a London-based Jazz pianist described by JazzFM's Helen Mayhew as 'One of the brightest stars in the Jazz piano galaxy, a heavenly improviser, and a brilliant prospect for the future.'
He is highly involved in a number of different Jazz scenes throughout the UK. He is most widely known for his band 'Aquarium,' for which he is both pianist and composer. Also featured are James Allsopp on Reeds, Joshua Blackmore on Drums, and Calum Gourlay on Double Bass. They have released two albums: their eponymous debut on the Babel Label in 2011 and their follow up album 'Places' on'Jellymould Jazz' in 2013. Both have received widespread critical acclaim and regular radio play nationally. John Fordham described 'Places' in the Guardian as 'surefooted creativity… way beyond respectful expertise' and Daniel Spicer described it in BBC Music Magazine as 'assured and sophisticated acoustic jazz with deep roots in the tradition, that knows exactly what it's trying to do – and succeeds.' Jamie Cullum introduced Aquarium as 'the heavyweights of the British Jazz scene' and described himself as a 'fan' of the band in his regular BBC broadcast.
Sam has led bands at most of the best-known venues in the UK including Ronnie Scotts, Pizza Express Dean Street and Kings Place. As a sideman he has performed with musicians including Ray Warleigh and Anita Wardell and has appeared on many albums, including the critically well received album 'Road Ahead' by Duncan Eagles/Mark Perry. He has been the pianist of choice for US touring musicians including Arun Luthra (tour in 2012), Leah Gough-Cooper ('LOCUS' tours in 2013/2014 tour) and Cameron Outlaw (The Outlaw Collective – tour in 2011).
Sam has composed a number of extended suites for various ensembles including: his big band, a quintet , and a piano duet with US pianist Dan Tepfer. He also co-leads a heavy-touring quartet with saxophonist Alex Merritt, and another piano duet with Richard Fairhurst.
Outside of his profession as a musician he is undertaking a part-time PhD in Music Cognition at Cambridge University where he is investigating the cognitive processes that underpin the aural learning activities of Jazz musicians.
'Multi-faceted and smart as a pin, this is poetic chamber Jazz of a very high order' – MOJO Magazine
Email: meaningandmysterybookings@live.co.uk
Website: http://www.samleak.com/slideshow.php
---
Patrick Hayes – Jazz Trombonist and Pianist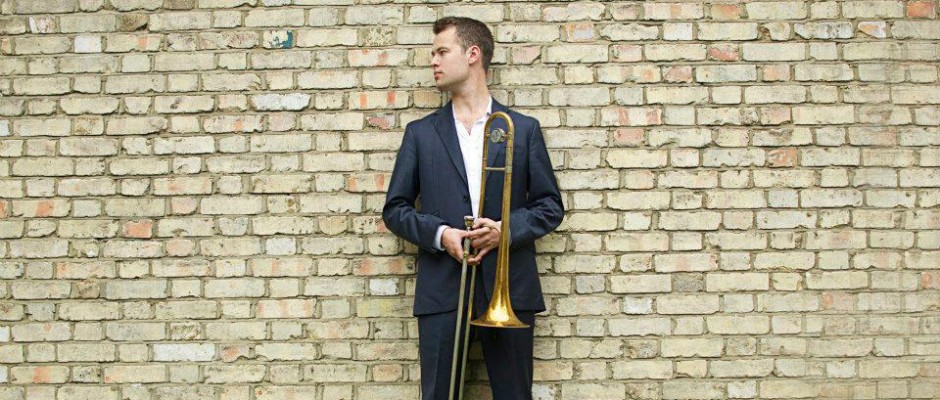 Patrick Hayes studied Jazz Trombone at the Royal Academy of Music, London and Studio Music and Jazz at the University of Miami.
During that time he studied trombone under the tuition of Gordon Campbell, Mark Bassey, Mark Nightingale, Denis Wick, Dante Luciani, Elliot Mason and Michael Davis. He also studied Piano with Nikki Illes and Whit Sidener as well as Composition and Arranging with Pete Churchill, Gary Lindsay and Steve Guerra.
Patrick has also performed/recorded with a wide range of musicians in the jazz and pop industry.  Pop artists such as Peter Andre, Jamie Woon, Si Cranstoun, Phil Ramone, James Taylor Quartet, Gizelle Smith and Howie Casey. Jazz musicians such as Gerard Presencer, Dave Douglas, Nestor Torres, Ed Calle, Shelly Berg, John Taylor, Kenny Wheeler, Stan Sulzmann, Henry Lowther, Guy Barker.
Groups that he has played in include NYJO, London Jazz Orchestra, Henry Mancini Institute Orchestra, University of Miami Concert Jazz Band, University of Miami Studio Jazz Band, South Florida Jazz Orchestra, the Steve Guerra Big Band, Troyk-estra, Glenn Miller UK and the Charleston Chasers.
Venues and festivals he has played at include Ronnie Scotts, 606 Club, Pizza Express Dean Street, High Note Jazz Club (Miami,) Half Note Jazz Club (Athens,) Montreux Jazz Festival, London Jazz Festival, Festival Miami, Soir Dete Festival (Paris.)
Email: patrickmhhayes@hotmail.com
Website: http://patrickhayesmusic.com/
---
Robery Puzy – Violinist and Viola player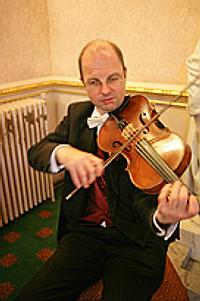 Robert studied at Durham University and the Royal Academy of Music. Since 1986 he has worked as a freelance musician on Violin and Viola in London and the south east. He plays with (and jointly runs) The Oberon String Quartet -providing music for weddings and other functions.
He has also enjoyed a varied teaching career working with children and adults.
He is currently based in schools in north and west London, and has also coached on chamber music courses in Norwich and Ipswich. Orchestral work in recent years has included the Philharmonia, Brighton Philharmonic and English Festival Orchestras.
Email: robertpuzey1@gmail.com 
---
Sophie English – Cellist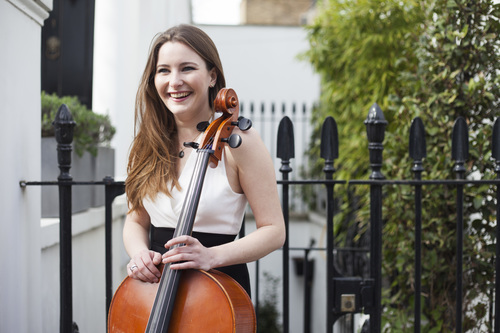 Sophie's earliest memories are being surrounded by string instruments in her grandfather's (Dietrich Kessler) workshop. Today she has performed with artists including Sam Smith, Jess Glynne and Jessie J. Alongside live performances and session work, Sophie also pursues her interest in orchestral playing with ensembles throughout London and the UK. Her projects have found coverage across international press and she has performed in locations around the world as far as Manly Beach, Australia
Performance
Sophie is experienced in playing for sessions, live gigs, music videos, television work and orchestral performances. She regularly plays with a variety of London based artists from a wide range of disciplines and backgrounds including pop, folk, jazz, soul and rock. Sophie also enjoys being involved with a number of orchestras and playing at some of the UK's finest venues including the Royal Albert Hall, Royal Festival Hall and St Martin in the Fields. She has also played in pit bands for West End shows.  Sophie is always keen to hear of any new and upcoming projects.
Functions and arranging
Sophie is often asked to organise live music for events including weddings, parties, birthday celebrations and corporate events. She has experience in organising ensembles of all shapes and sizes; from solo cello performances to quartets and full string sections.  If you have specific music requests for an event, Sophie can organise bespoke arrangements.
Teaching
Sophie is always keen to take on new students in London who are looking to learn the cello. She also regularly leads workshops for players of all abilities. Sophie's private students range from those just starting out to more advanced musicians. She has taught students working towards all ABRSM grades and also encourages those who simply want to learn for their own enjoyment and musicality. Sophie is based in West London though travel arrangements can also be made.
For more information including rates and locations, please don't hesitate to get in touch via the contact form on her website.
Website: http://www.sophieenglish.com/
---