School admissions made simple…
  
Mums In The Wood – Education
A Personalised Schools Consultancy
by MumsInTheWood.com
---
Who are we? 
Mums In the Wood – Education is a personalised educational consultancy offering a bespoke service for parents who are looking for  individual advice, tailored to their specific needs.
As a mother who has just been through the process myself, I understand how daunting a task it may seem, to find a private school in North West London for your child. This is especially so, for first time parents or those who are not familiar with the area or the system. The whole school admissions process can be so stressful and confusing.
I hope to make this period a little easier for concerned parents so that they can spend those first years, enjoying and playing with their children while at the same time laying the educational foundations that will stand them in good stead in the years to come.
As such, I have set out to provide  free information, advice and resources to many parents who need a base from which to work on, via this website which has an enormous amount of information and insights into the education system. Moreover, having forged strong relationships with local schools, I have been fortunate to have been invited to visit and conduct exclusive interviews with many schools, regarding their admissions policies and ethos among other relevant factors.
For parents who want more information and bespoke advice, I provide consultancy services and packages depending on what your requirements are. The service I offer, is a unique and insightful one which provides parents with in-depth insights into the school system as well as first hand experience of local schools.
---

Whom do we help? 
parents living in North  London who are unaware of school requirements or the application process;
parents living in North  London looking for suitable nurseries to enter as a precursor to entering the private school system;
parents relocating to North  London from other parts of the country or from overseas on a medium or long term basis;
corporate clients; and
agents acting on behalf of clients based anywhere in the world and looking to move to North West London.
---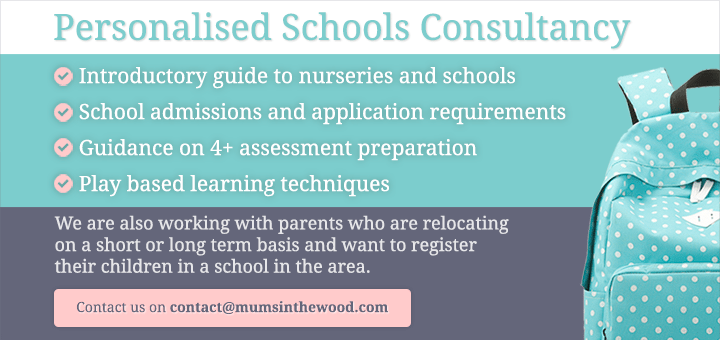 Testimonials from our group talks so far:
"Thank you, we are new to the country and were so confused, this has really helped us to know what to do and how to start" – ST
"Thank you, for your help, we were so worried as we have just come over from (x) and you've really helped with what the next steps should be." – MK
"This was very helpful. Thank you it has cleared things up a lot".  – LD
"The presentation and the links are useful. There's so much to carefully think through even before baby turns 1. It was lovely speaking to you and I followed your recommendation and have registered interest with X" – AT
"This has been so interesting and helpful. Thank you very much. My husband and I will be coming back for an individual session as soon as we have got our shortlist together. Thank you so much." – AK

"The (4+ assessment) talk was more about practical stuff rather than the system so it was v useful for me. Helped me understand what expectations the schools really have. (It) cover(ed) a lot of useful stuff and helped me to start to plan things to do in the afternoons a bit better." – TG
"I want to thank you for your note and fact based assessment of both schools. We ultimately have made the decision to go to [x] and I think it will be best considering everything we have learned." – MH
"I found the talk very useful, thank you! I don't think there's necessarily anything that I would have liked to be covered but wasn't. It was a lot of information to take in in one sitting already!" – CL
"I enjoyed your talk and although I have been through the process before I did pick up on few new things eg the list of children's books………I will be happy to feedback to you once my little one sits in 2018! I do v much enjoy following your blog" – HC
"I thought it was very helpful and informative. I appreciated the way you went through the specifics of what the schools were looking for and gave examples of how to work on each aspect…..I will definitely recommend you to friends." – LM