Exclusive interview with Mr Giles Tollit, Headmaster of Arnold House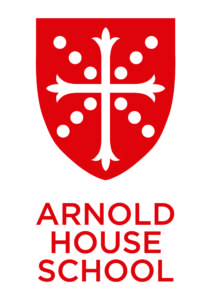 I had the pleasure of meeting the hugely optimistic and charismatic Giles Tollit for an enlightening talk in his sunlit office on 18 March 2022. Swapping 65 acres, golf courses and boarding school country life to take on the new headship  of London's Arnold House prep school seems unlikely, but this total change of lifestyle was not serendipity, it was his goal. He never severed links with family and friends in London, and a ten year plan to end up back in the City when his three children reached their teens has panned out. 
Mr Tollit's life could have taken a completely different turn as he was planning an army career via Sandhurst after graduating university, but after falling ill with meningitis, he had to backtrack. He met his now wife Molly and took a year out before  teaching Classics at a local Tunbridge Wells Prep school. He never looked back. Deputy Headmaster of Bilton Grange (Now Rugby Junior School), Director of Studies and Head of Boarding at Caldicott, ex-headmaster of Newburys and Headmaster for ten years at Horris Hill.  He is very self assured and confident in his understanding of the education system and how to teach boys.  Outside of school life Mr Tollit makes time to reflect, by visiting his second home in North Wales, Snowdonia  where he stores his 'toys' : bikes, boats, wetsuits… and closer to Arnold House  on his  first ever daily commute, the 25 minute walk to work past the ducks in Regents Park. That and spending time with his three sons, his dog Bilbo and his wife.
Following on from Viv Thomas, who had been with the school for the best part of 25 years is undoubtedly a challenge, but Mr Tollit believes it's time for a refresh,  he says we are in the midst of an adapting  new landscape after the pandemic and the future is really exciting. Not that he is here to turn it upside down or rescue it, AH has a fantastic reputation, the results speak for themselves,  but  he  wants to increase the focus on creativity and collaboration.
The recent expansion into The Huxley Building in Marlborough Place, set up for reception and pre-reception classes at a 3 + entry point,  taking its first pupils  only last September will require a fair bit of Mr Tollit's  time. Although I didn't get a chance to see around the building, it is a really wonderful addition to the school. The young boys wear AH blazers and caps, can use the facilities of the other two school sites and take part in school events such as assemblies, sports day and prize giving. They are seen as part of, not as an extension  of the main school. 'Our little Arnold House boys'. Mr Tollit affectionately said. With a love for green spaces, Mr Tollit is also extremely super proud of the 'jewel in the crown'  seven and half acres of land at Canons Park that the school owns. Incredible facilities include grass and artificial surfaces for sport, two classrooms and a hall that becomes a theatre space with electronic tiered seating. Changing rooms and catering facilities are also onsite which allows the boys from each year group to visit at least twice a week. It was also extensively utilised during the pandemic. 
With very well-established links to the powerhouse boarding schools, Eton, Radley, Harrow as well as Westminster and St Pauls, Mr Tollit is already tirelessly fostering reciprocal relationships with the London day schools too.  He wants families to continue feeling very invested in the school, social evenings and plays abound and he has already initiated an extremely successful Dragons Den event  for Year 8, where he acted as one of the Dragons..to an audience of parents. The pupils voice is valued, he says, 'this is not a school where you're squished and told to sit down and be quiet, this is a school of active bright, busy boys'. The most bookish boy who comes to our house, after a few years is really looking forward to his football match. We celebrate everybody.
He talks about peer mentors and boys having direct access to art, music, drama and dance, a new SENCO teacher and the recent Yr 4  hit play, The Rocky Monster show. Yes he wants academic boys but his interpretation of academic is 'being engaged in your learning, if boys are  coming home buzzing about his maths, that is academic..' He wants a cohort of families that will enjoy the journey of the house together. In a very short amount of time, Mr Tollit has already modernised the school crest, changed the way he communicates with parents and sees  huge potential out there… He casually mentioned the sad absence of a DT lab, no robotic arms, no soldering irons….  I would watch this space, this is a man who has plans and vision. And acts on them.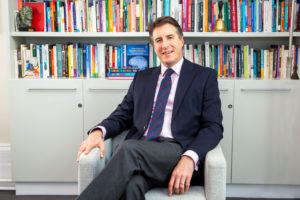 Question:
What was the thinking behind the new provision of a nursery education from 3+ at Arnold House?
Answer:
The expansion was in the planning for some time with a long term wish to provide Early Years teaching at Arnold House in order to seamlessly embed our ethos and values from the start of the boys' educational journey. The Governors agreed that integral to its success was ensuring that we were able to attain the right property within close proximity to Loudoun Road. This search came into fruition in November 2019 when we were able to acquire the
freehold ownership of 38 Marlborough Place, just a few minutes' walk from our existing site.
Question:
Is 3+ the only point of entry into the school now or will you (like some other prep schools) introduce a 7+ intake based on merit as well? Do you have occasional places?
Answer:
3+ is now our main point of entry with boys expected to remain at Arnold House until they transfer onto their senior schools at 13+. Occasional places may become available further up the school but there are no current plans to introduce a 7+ intake.
Question:
With a two form entry point and an incredible sibling and alumni boys policy what is the average amount of pupils you will be giving places to at 3+ ?
Answer:
There are 40 places available at 3+ each year. Whilst places are not guaranteed, younger siblings, whose parents remain fully committed to the ethos and values of the School are looked upon favourably, as are the sons of Arnold House old boys.
Question:
It is common knowledge that the parental interview has always been the most important factor for determining a place at Arnold House. Has this focus changed to be more centred on the child's performance now that the entry point has changed? Could you explain the admission process?
Answer:
It has always been important that our parents' ideals about their sons' education is aligned with the aims and ethos of Arnold House and this remains a key component to the decision making process. We do, however, meet the boys in small groups accompanied by their parents as part of the admissions process.
There are four steps to the admissions process:
Boys need to be registered prior to their second birthday and parents are invited to an Open Evening at Loudoun Road in the June of the year prior to possible The evening includes a tour of the school and an opportunity meet older pupils and staff.
Parents are then invited to book an appointment with the Headmaster in the Autumn Term before the year of entry for a twenty minute interview to discuss their son's educational aspirations and answer any questions they may have. Ahead of this occasion parents are asked to complete a form about their son and his family.
Parents are then invited to book a tour of The Huxley Building in Marlborough Place where they will get to see the Early Years' team in action.
All boys whose parents have completed all steps will be invited to a 'playdate' accompanied by one This takes place in small groups of boys born in the same month.
Offers are made at February half term of the year of entry.
Successful applicants are then invited to a 'First Steps' session in the Summer Term prior to the September in which they will start at AH.
Question :
What is a typical Arnold House boy's personality and character? What does the school offer boys that other prep schools in the area do not?
Answer:
A well rounded all-rounder. A boy who takes an interest and has a go. A boy who seeks to help others and enjoys their success as much as his own.
Arnold House values a supportive family ethos and operates in a relaxed, though structured manner, ensuring that all boys are cherished and achievements recognized and rewarded. Academically, sights are set high with the object being for each boy to develop his talents and succeed in securing a place at a senior independent school that is right for him. A healthy balance is achieved and maintained between matters academic, artistic, pastoral, spiritual and sporting and care is taken to allow the boys to mature at their own pace. There is a reasonably traditional approach: in curriculum, in structure, in uniform and in a degree of formality. Well respected by leading senior day and boarding schools with whom the School have strong relations, Arnold House is known for turning out bright, considerate, highly motivated and well-rounded boys.
Question:
With numbers increasing in the school, courtesy of the nursery school, do you have plans to expand the school in any other ways?
Answer:
There are currently no further plans for expansion.
Question: 
Having joined the school less than a year ago, what is your vision and plans for the future? Under your headship will you be making changes? What will they be?
Answer:
Arnold House is a great school, in great heart, and I recognise the strong ethos and traditions that remain at the heart of it. We are ideally placed, therefore, to step forward in response to a changing educational landscape and to develop the provision for new areas of learning: an emphasis on well-being and the environment; exciting use of new methods and technologies even within traditional curriculum areas; a fostering of creative skills in all areas but especially in drama, art and music.
Question:
The last headmaster Viv Thomas was at the school for 15 years and had great relationships with the senior schools, what are your plans to continue these links and foster new ones?
Answer:
As an experienced Headmaster, I already have close links with many of the schools to which Arnold House boys move. Several were less familiar so I have already been sitting in a number of Heads' studies and admissions offices. Establishing a regular forum for reciprocal visits back at Arnold House has started so I look forward to strengthening links with all the schools that parents here might want to consider.
Quesiton:
With its location in the heart of St Johns Wood, most of your pupils are from the surrounding wealthy areas – do you have plans to expand the areas of selection? Are the boys involved in any community outreach projects?
Answer:
Arnold House offers full 100% transformational bursaries to boys from Year 4 and above whose parents would otherwise be unable to fund an independent School education.
There is, of course, no geographical limit to any family wishing to apply to Arnold House.
Boys are involved in a number of community outreach projects, working particularly closely with our local Hospice and the Hackney Parish Lighthouse Project for the Homeless. The boys also support a number of charities throughout the year. These are chosen by the boys through an interactive selection process. This year, as well as the Hospice, the boys are supporting two local charities; Cure EB and Sufra Food Bank. Awareness is raised through a number of charity activities each term.
Question:
How have you managed to keep the academic standards so high when you have such a strong alumni and sibling policy?
Answer:
The secret to great academic progress for all boys is no secret at all: the establishment of a close rapport between staff and boys, to ensure that all boys feel known and supported, and then ambitious staff who instil a growth mindset into every pupil. Arnold House has always had this approach and the strong community here supports it.
The word 'academic' can conjure images of the lone scholar, or diploma certificates, but for a school to be truly academic, all boys – in all subjects and at all stages of their development
– must be engaged in their learning: as happy going to a lesson that they find difficult as they are to a favourite.
Even our 13-year-olds have their whole lives ahead of them and a good school will always take the long view. The fact that this often allows boys to excel whilst with us is a way of assessing the strength of the process but it is not the goal: all boys will have been given fantastic foundations here.
Question:
Could you explain how you academically set the different subjects and what support you give to the bottom sets? What support do you give to the parents going through the process?
Answer:
We set in English and Maths and this is to give the best learning environment to all boys: we have three groups across two forms, so teaching groups are perfectly sized for providing challenging work and the close support needed to meet that challenge.
Question:
What pastoral care does the school provide for the older children going through the challenging 13+ exams? 
Answer:
The senior school admissions tests that all boys now undertake in Year 6 are a threat to their wellbeing so it is vitally important that we mitigate this in the way we do for all the challenges that boys face. Good preparation is key, so that boys know exactly what they will face and can feel their confidence growing. We also talk about possible outcomes and what happens beyond, so that everyone can see positive ways forward.
This support is extended to parents as well, and we have moved the start of this process forward to so that Year 4 families have access to all the information, and the very experienced team here, to guide them through the 18-month period.
CONCLUSION
Arnold House, with its new premises in Marlborough Place hosting Pre-reception and Reception has only 40 much coveted  3 + places.  Getting the word out about this change to the school's admission process is number one on the agenda, but the feeling of the school is still much the same as it ever has been. Siblings are assessed but rarely get turned away. Being alumni, although not guaranteed is helpful.  A sense of privilege in the facilities and opportunities, underpins the school life but there is no sense of smugness or attitude.
On a tour of the school with two charming Year 6 boys, Zak and Aiden, I am blown away by the skylights, the maze of never ending  bright classrooms, polite smiling  red uniformed smart boys kindly opening doors for each other, the impressive music department with string quartets and clubs galore. The art work covering the walls. The IT rooms in the eaves of the school, the newly modernised science lab, the spacious and well stocked art room and a Latin class being taught by a very enthusiastic teacher.  The wonderful playground where an outdoor lesson was being held,  a vast locker room and a gymnasium. The boys tell me about the recent three day holiday in Belfast to play rugby and hockey and an upcoming play about WW2 evacuation. This impressive boys' prep has so much to offer and with a new man at the helm, the future feels  incredibly exciting.
.