Exclusive interview with Mr Alastair Gloag, Headmaster of St Christina's School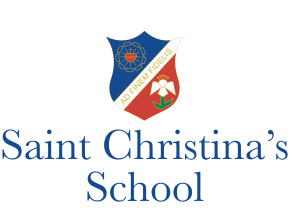 Mums in The Wood had the pleasure of meeting with Mr Alastair Gloag, the new headmaster of Saint Christina's Prep School, on 3rd December 2019. He first got into teaching while studying History at university when a member of his Church asked him if he would like to help out at a Church camp. He started off teaching History, Politics and Religious Education but has always worked in schools catering for children aged 3-18.  
After 6 years running a boarding and day school in the north of England, Mr Gloag felt that he had reached a cross road in his life and decided to make a change. After achieving a double 'excellent' in inspection (having inherited a school that was not achieving at that level) he felt that he would like a better work / life balance and leave boarding behind him. It was at this time that he heard about Saint Christina's and made the decision to take on the Headship.
He was clear that he believed that children had to be motivated and excited to learn which is why Saint Christina's is not a selective school and they would not have an entry point at 7+ either. He is a firm believer in fostering intellectual curiosity in children and the school has launched a space pod 34,000m above the earth, having a pi day when children have rubiks cube competitions and have to do them one handed.  As he smilingly said, "if you can get to the edge of space, you can do algebra". He believes that the mindset of children needs to be improved. 
He is also a firm believer that children growing up in today's society, are helped to be adaptable in thinking and analysing, that linguistics are important, that creative subjects must be encouraged and that there should be an increased emphasis on Maths and English because teachers are in effect, teaching for a job market that has not been created as yet. As such, all children in Saint Christina's learn coding from the age of 3 upwards, the school has started numerous STEM clubs, robotics clubs are on the list and a specialist science teacher has been appointed so that children are enabled and can as they grow, choose their own paths. He carried on to say that "as a school, it is our duty to make opportunities for the children to then make the correct choices". 
Mr Gloag was also  clear that parents must buy into the ethos of the schools they choose, that if the child is healthy and in an environment that promotes good values, then strong academic outcomes will follow.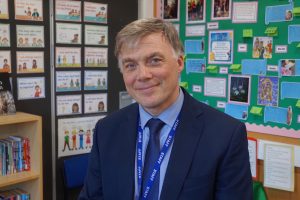 Question:
A year after joining, how do you feel the school has changed (if it has) under your headship? 
Answer:
Since arriving at Saint Christina's I have been charged with implementing the Governors decision to allow both boys and girls to stay in the school until they are 11 years old and to see if in doing so, we might be able to expand the school to two form entry all the way through.
In addition to these fundamental strategic decisions, we have conducted a very thorough audit of our provision and curriculum and introduced a new intellectual curiosity programme that has seen us make a space launch and venture into the world of robotics and AI.
Question:
Why was the decision made to turn the whole school co-educational?  A general belief is that girls learn better in a single sex environment and boys in a co-educational one. What are your thoughts regarding this adage? 
Answer:
Saint Christina's has always been a co-educational school. So far as I can see within the records we can see that boys have been a part of the school's community but they have only been able to stay until they have reached the age of 7 years. The recent decision to move to full co-education is merely an extension of their tenure.
Girls and boys learn best when they are in a school that is filled with outstanding teachers, where there is a clear vision and a strong learning ethos, and where they feel safe, happy and fulfilled.  Where these criteria are fulfilled, both boys and girls will thrive.
There is much debate about single-sex versus co-education but as someone who has taught in both settings at both secondary and primary level, I would say that there are many myths and beliefs in circulation. It is a fact that many single-sex schools are highly selective which means, therefore, that children should be achieving very high GCSE and A level results but the fact that they do may have no connection whatsoever to the nature of the student cohort. I don't think that it will be possible to grapple with the full extent of the debate in this short Q and A, however, I would say as someone who has worked for many years in both environments, that socially and academically I think that co-educational schools provide a balance and a challenge for both boys and girls that cannot be matched in a single-sex environment for the simple reason that they do not, by definition, have all the elements to create that mix.
Question:
What do you feel the impact of the change has been on the academic and social standing of the school ?
Answer:
We are clearly at the beginning of our new journey. Our strategy to become fully co-educational is to build from the Early Years Foundation Stage so it will be some years before we see boys graduating at 11+. What I can say, is that the decision to go fully co-educational has already had a really positive impact on the school in that it has offered a new prism through which we look at and audit our provision and our curriculum. In so doing we have appointed new staff and we have refined some foci to increase our emphasis on coding, languages, STEM related activities such as robotics and AI and our new Intellectual Curiosity programme. The interesting question that we have posed ourselves is not "what do we need to do for the boys" but instead, "what do we want in our curriculum for all of our children?" In answering this question we wanted to increase our emphasis on teaching another language, we wanted to ensure that girls as much as boys are able to consider engineering etc., as something they would like to be pursue in the future and that all of our children would be able to enjoy an environment that is naturally interesting, challenging, creative and at times 'surprising'. We have wanted to build into the lives of our pupils as many jaw-dropping wow moments.
In terms of how this has been received, I can only say that I have been delighted with the response that we have seen in terms of applications to the school and interest in our project.
Question:
Saint Christinas has often been referred to as a "hidden gem". Do you feel that with the current changes, the school is on a path to gaining a more popular and public persona? 
Answer:
Saint Christina's was described as a hidden gem by Tatler Magazine. It's nice to have that sort of affirmation but ultimately people will make up their own minds if they come and visit us. We want to be the very best school that we can be just as we want every boy and girl who comes here to become their very best. I hope, though, that the changes will make us even more desirable in the 'hidden gem' rankings!
Question:
Being one of the only co-educational Catholic schools in the area, what are your views on introducing a selective entry process at a young age, if the school became heavily oversubscribed?
Answer:
The school has no plans to change its admission criteria. Visitors to the school comment very favourably on our community and on how confident and articulate the children are. I think that because we talk about creating a community at Saint Christina's before we talk about the children's academic achievements and the schools they join at 11+ that sometimes people think that we focus less on this, but we don't. Pupil outcomes and progress are both outstanding and they are able to access some of the most highly selective schools in London at secondary level, should that be their wish. Indeed, as I sit here writing my response to your question I am looking at a really impressive list of heavy weight selective London day schools at which children in Year 6 have secured interviews following the assessments that they took at the beginning of term. I have no doubts that we get the children to be their very best, that the Value Added over the time a child is at Saint Christina's is outstanding.
Question:
What do you feel Saint Christina's offers its pupils over and beyond other similar schools in the area? 
Answer:
The fact is that we are a co-educational Catholic School. In itself this is an offer that few schools in our area make. We take faith seriously and this means we take everyone's faith seriously, whether or not they are Catholic. As a co-educational school we offer parents the convenience of being able to educate the whole of their family in one place and we are proud of the curriculum that we have reviewed to ensure it meets the needs of all the children within the school. We have started to embed a progressive STEM programme that is seeing children compete in Maths competitions well out of their age group: the UKMT Intermediate Maths competition is aimed at 14-16 year olds and yet we compete and very often certificate at Bronze and Silver levels. We introduce children to Coding at 3 and are developing STEM through clubs and activities that allow the children to construct robotic creations that they can apply their coding skills and programme and manipulate through Bluetooth technology. There is a real sense of community within the School that means that those who are part of it really know what we are here for and what we want to achieve. Our values are clear and the children are all signed up to the mission. I rarely have to deal with poor behaviour and really do rejoice in a very energetic and enthusiastic school body. We have launched our own space mission through the intellectual curiosity drive that I brought to the school, and awe and wonder has been embedded into our planning and curriculum as standard! There are masses of clubs enabling the children to try a whole host of different things. We have just finished creating, as a while community, our first green wall. This is part of our conservation initiative where we are linking up with both Westminster Council and individuals from imperial College to look at and understand our own environment – air quality etc – to see what we can do, from an informed research-rich position, to improve where we live. This ties in with our eco-brick initiative where we are trying to find a constructive answer to single use plastic and how we might use these materials to improve our environment and not diminish it. Ultimately, what might be different all comes to mind set. We are not intimidated by anyone or thing and we want to have a crack at achieving things that other might say, primary schools can't do.
Question:
English has always had a strong emphasis at the school. What changes if any have the school put in place to ensure that children are being prepared to enter a Digital Age?
Answer:
One of the first things that I asked my Phase 2 leader to do when I arrived was to entirely review and revamp our approach to English and how we teach it. The beauty of the Maths curriculum is that most schemes come with built in assessment systems which mean that you can really see the progress that children are making. Doing complex fractions in Y2, then you are well ahead of the game. There is, in my view, less clarity through the educational sector, for English, so we have produced our own structure that allows us to get a really good feel for where children are in these terms. We believe that English underpins most of what we do and encourage the children to develop their skills both traditionally and digitally. Reading is something that every child should do incessantly. A well-read child will access the very best secondary schools because they will have immersed themselves in creative writing, in ideas and narratives, in types and style of writing and in a huge range of vocabulary. Many secondary heads actually say that if you want a magic bullet for 11+ assessments then read like you have never read before! Aside from this, reading allows a child to become a very rich tapestry and a multi-dimensional and really interesting individual and thinker. Well-read children tend to have a really interesting level of creativity and can take a view on the world that can be iconoclastic. So the traditional is so important. Of course we have supplemented this with resources that enable the children to enjoy an enriched environment through the provision of Chrome Books and Ipads in classes, but ultimately, the digital is a servant to this area of learning and there is nothing digital that can replace the imagination of a child. Reading and writing and crafting ideas whether with a pen of a keyboard are the only ways in which a mind can be populated with these literary treasures.
Question:
How much community involvement do the students have in the local area?
Answer:
I think that the children are very active locally. On a simple level, you might have noticed that we pop out and do a quick sweep up and down the road for litter. But on a larger scale, through Horizon Voices and various other outlets, our staff and children do much. There are visits to the local Hospices and there is much done for charity where various initiatives are taken on and pursued. An example of our mind-set: 2019 was our 70th Birthday, so as part of that my challenge to the school was to write 70 letters to people who have inspired us and to enact 70 powerful acts of kindness. The aim was to take us out of ourselves and to others. We firmly believe that as individuals this is what we should do, but I think we also believe that where we think of others more than ourselves, we are healthier as an individual ourselves, both in body and mind.
Question:
What is your vision for the school under your headship?
Answer:
We want to grow children. We want them to have the widest and broadest imagination and sense of achievement possible. We want them to be happy in their own skins and be able to handle the pressures that they have to face at the age of 11. We want girls to be engineers as well as boys. We want the children to play and work hard and develop great values of courtesy and respect for those around them. We want great sporting achievements and we want children to excel in their musicianship. We want the school to be full of boys and girls from 3-11 years of age bursting with energy and enthusiasm. We want to be a the best and most wholesome School community that we can be, where every child in our care has the opportunity to be their very best.
Conclusion:
The school is currently unchanged from the last time we visited but there are plans to extend the classrooms, create bigger play areas and refurbish the dining hall. The academic standards of the school remain high and we feel that under Mr Gloag's enthusiastic headship, the school will thrive and reach new heights.