Interview with Ms Caroline Spencer, Head of South Hampstead Junior School

Mums in the wood interviewed the new head of South Hampstead Junior School, Ms, Caroline Spencer on 2nd December 2019. Ms Spencer hails from a family of teachers and her father was the headteacher of a comprehensive school in the Midlands. Ms Spencer laughingly tells of how she resisted the family trend for a while majoring in Psychology instead which she was passionate about. She went on to get a Masters in Occupational Psychology and worked in academia for 18 years before giving in to the calling from within and after a volunteering stint  in Yorkshire , retrained at Nottingham University to become a teacher.  When she moved to London for her first teaching position, Ms Spencer, worked in a state school in Fulham. She then went on to work  in  Merlin, in Putney as the head of Maths during which she also oversaw the 7+ preparation process. 
Wanting to experience something different, Ms Spencer then moved to Australia  and worked as both a Year 6 teacher and as the Head of Key Stage 3 in SCEGGS, Sydney enjoying her time there for 2.5 years. Missing home, she returned to Merlin, going on to then work at Francis Holland, Sloane Square as Head of the Junior School and finally taking on the headship of  South Hampstead Junior School. 
Being a mother of a toddler herself, she is enjoying her time at South Hampstead and has found having had many meetings with Mrs Solti that they are very much aligned in thought. She encourages girls to be brave, have a go and bounce back and is keen on making sure that the traditions that keep the academic rigour in the school, are kept alive, that the girls are excited about learning, feel secure with taking risks and that the teachers are constantly igniting sparks in a safe learning environment.  She has also recently introduced a STEM family challenge where families had to build a marble run, plans to invite young female employees in tech companies to speak at assemblies and is very invested in helping the younger girls build up to the almost palpable drive towards female empowerment in the Senior School. 
With regards to the assessments,  she felt it was a useful that the girls did not have to do the 11+ exam to move into the Senior School and was clear that at 4+ and 7+ she wanted girls to enjoy the day and be receptive to the adults they meet. The 4+ for instance, is not designed to catch the girls out nor to test learned skills as such. It is very much about how children interact and the set of tests are nursery style play activities. The girls are grouped and compared by birthday so as not to disadvantage summer-born girls. At 7+ she explained that most are invited back while at 4+ numbers are difficult but over 100 children are still invited back for the 2nd round. 
Ms Spencer is also growing the learning support function at the school and was clear that the school could now cater for children with reasonable needs. She has also started exploring some community initiatives with state schools and was very interested in growing links possibly through the institution of eco clubs and other alternative ideas.
Ms Spencer was clearly passionate about the school and fostering and improving the skills needed for the girls to go out into the world as strong, grounded leaders. She was welcoming and interesting and extremely enthusiastic about her new position, having a lot to contribute in terms of supporting girls to take risks, challenge themselves and be confident.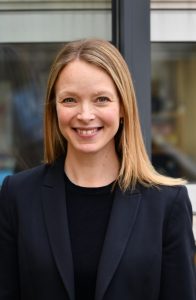 Question:
What prompted you to make the change from Francis Holland to South Hampstead and what are the aspects in which the two schools differ? 
Answer:
I'm a big advocate of all-girls' education. Having worked in co-ed and single sex schools – both in the UK and abroad – I can see the confidence that girls' schools instil. What the two schools have in common is an emphasis on the whole child, with strong pastoral care at their hearts.
South Hampstead has a very forward-thinking outlook in relation to the curriculum.
The school's reputation for academic rigour is impressive, but it was the warmth and community feel that first struck me. I felt very much at home as soon as I walked through the doors. The staff are intelligent, well-read and passionate about educational research. The girls are well-rounded and very engaged, with broad interests and passions. The genuine through-school setting – with no 11+ examinations for Junior School pupils – gives a freedom to focus on a strong start to life in the Senior School. It also means that we can provide an inspiring curriculum for the entire academic year in Year 6. The emphasis on sparking intellectual curiosity struck a chord with me – it's something that really permeates teaching and learning at South Hampstead.
Question:
What if anything, are the changes you envisage implementing at the Junior school? What is your vision for the school and how does it differ (if it does) from that of Mrs Solti's? 
Answer:
I'm fortunate to have inherited an incredible legacy from Mrs Solti: a broad and innovative curriculum, a strong focus on resilience and the growth mindset, a creative programme of co-curricular activities and a genuinely holistic approach to teaching and learning.  There's a real energy at the Junior School and I'm keen to ensure that every girl continues to have the best possible start to school life. Our whole school ethos is very much about ensuring all our pupils discover a sense of self and develop a sense of purpose.
In terms of changes, I'm looking forward to making some improvements to our facilities. I am also keen to further build on ways in which to encourage creative and independent thinking skills in our girls, providing stretch and challenge, so that they can begin to develop the skills needed for the changing landscape of the world of work. Science, Technology, Engineering and Maths (STEM) is a particular passion of mine and I was delighted with the very successful introduction last term of the STEM family challenge. Girls were given a half term to work individually, or collaborate with siblings or friends, to plan and build a marble run. Participation was very high and we linked up with Scientists in the Sixth Form for the initiative, who were in awe of the Junior School girls' ingenuity.
Along with Mrs Bingham, I am a firm believer in the power of public speaking skills and this is another area I would like to enhance. We have already begun with increased public speaking responsibilities for our House Captains and continue to explore other ways in which to develop these useful life skills in our girls. Benefitting from a supportive and engaged parent body and PTA, we are building on the charity and eco work of the school. Next term, we launch an annual Junior School charity, utilising links in the school community and ensuring that the fundraising and impact are meaningful to the girls. We are also exploring ways in which to link up with local state schools for an environmental project and have exciting plans for the whole school Eco Week in January, with a focus on recycling.
Question:
What do you feel are the benefits of having a two part assessment process at the age of 4 and how would you respond to parents who feel that this may be a big ask of such young children? 
Unfortunately, we simply don't have the capacity to accommodate all the girls we would like to offer places to in Reception. Each year, we are very over-subscribed; the sheer numbers mean it's more practicable to meet our shortlisted girls for a second time. They are invited back in small groups, by month of birth, and parents are advised to treat the session as a play date. The girls have great fun and our staff are wonderfully adept at making them feel at ease.
The two-part process gives us the opportunity to reflect on the progress made, which is particularly important for such young girls.
Question:
With the consortium now having structured the 11+ exam differently, do you see South Hampstead moving towards just a 4+ and an 11+ entry and removing the 7+ entry in the same way that for example schools like Channing have done? 
We have only one class of 24 girls in Reception, Year 1 and Year 2, then two forms from Year 3 to Year 6. With 270 girls in total, there is a real sense of community and camaraderie in Netherhall Gardens. At present, we don't have capacity to expand, allowing us to remove 7+ entry, but we are very aware that there is demand.
As an all-through school, with smooth progression onto the Senior School, girls at our Junior School can really focus on broadening their horizons rather jumping through the hoops of 11+.
Question:
There is an impressive drive towards female empowerment throughout both the Senior and Junior school that is almost palpable. How does this come into play in the daily lives of the children? How has the school adapted its curriculum for example when teaching core STEM subjects to children who will be venturing out into a digital age? 
Answer:
As part of the Girls' Day School Trust (GDST), founded by four pioneering women, South Hampstead has been championing a more female future since 1876. It's important that we continue to be at the forefront of promoting equality, helping to empower our all our girls to find their voice and to discover their potential. The GDST provides a multitude of enrichment activities for girls in areas such as technology and maths, and our girls always shine. The professional development opportunities available to staff also ensure that we stay well-informed and at the forefront of developments.
At South Hampstead, there are no 'girl' subjects or 'boy' subjects. They play football, they dance, they code, they debate… there's a plethora of opportunities to experiment, to take risks, to find their passions, to grow. We want to equip our girls to change the system, not to navigate it… we encourage the girls to be flexible learners and develop the confidence to take the lead.
Question:
As a very academic school, how do you adjust the pace to suit children with reasonable needs? 
Answer:
While the pitch is high in all lessons, we are aware that some of our girls might benefit from support in a specific area and we are able to provide this to a reasonable extent within the context of our academic setting. We encourage parents to be open with us about any mild extra needs their daughter has, as this would certainly not disadvantage her.
Learning at South Hampstead is just as much about respect for individuality as it is about achievement. We encourage each girl to run her own race and are aware that children develop at different rates and have different strengths.
Question:
In a general atmosphere, that seems to be ever increasing the pressure on children (and therefore on parents) to strive for being the best and producing the best work, how does the school handle the competition between peers?
Answer:
With a background in psychology, this is a key focus of mine. We know that perfectionism can become a barrier and, with bright girls, we must work hard to remove this barrier so that they do not become risk-averse. This needs to be reflected in our culture and ethos, with a focus on effort, progress, perseverance and resilience. We build in as many opportunities as possible for girls to experiment, to embrace errors and bounce back when things don't go according to plan. We set regular open-ended project tasks – to help spark the imagination, and encourage the girls to solve problems and present their own ideas. We need to let them flounder and give opportunities for them to develop their creative thinking skills so that they can become independent problem-solvers. Collaboration, through talk-partners and group work, is a consistent part of our approach at South Hampstead and this helps to remove a focus on being 'the best'. The girls are also very supportive of each other and our strong pastoral care ensures that extra support is given when needed so that little worries do not snowball.
Question:
There are some concerns about peer pressure and 'rites of passage' as it were, as the girls go higher up the school. What policies are in place to help the younger girls as they progress through the school to withstand such pressure and make the right choices?
My focus in assemblies last term was kindness and respect. Starting with our youngest girls, the message is very clear and we understand our role in helping the girls to make good choices and learn from their mistakes. As Head, I am directly involved in this and feel the consistent message, from the top down, is key to success. We have effective strategies in place to encourage independence in resolving difficulties, while also knowing when to intervene. The atmosphere in the Junior School is one of positivity and encouragement, with respect for the individual. We have robust pastoral frameworks consolidated through clear messages about friendships, respect and bullying through our assemblies and circle time, from Reception to Year 6.
Our House system and leadership roles and responsibilities further help to reinforce the qualities we expect of our girls. Throughout the whole school, girls are expected to act in a way which shows Thoughtfulness, Open-heartedness, Respect, Courage and Honesty, values embodied by our school emblem of the torch.
Question 
How do you feel the ethos of the schools has changed over the years? South Hampstead has gone from a school that was looked at warily by many parents to one that parents are desperately craving to get into. What do you feel has effected this change? 
Answer:
South Hampstead has a well-established reputation for academic excellence. Since joining South Hampstead as Headmistress in January 2017, Mrs Bingham has focused on promoting a forward-thinking and outward-looking ethos, very much in evidence at the Junior School too. While our exam results in the Senior School ensure we're well-placed in league tables, there's so much more to an education here. That starts at the Junior School, where sparking intellectual curiosity begins when they walk through the door, aged four. Our well-thought out programme of educational visits and residential trips builds confidence and independence. Our integrated curriculum ensures that topics are delivered in an exciting and meaningful way, fostering interest and engagement. A focus on depth and mastery across the curriculum promotes progress and independent thinking. Our ever-expanding co-curricular programme provides broad and varied enrichment opportunities. I'm really proud to be a part of a school community where's there's a genuine warmth, a buzz and a real sense of fun.
Question:
 How much support do children have on an emotional and social level at the junior school and what measures have the school put into place to make sure they are well supported at all times? 
Answer:
We have clear strategies in place to encourage self-regulation and independence in conflict resolution. Our values and ethos are communicated through the golden rules and reinforced through assemblies, PSHE (personal, social, health and economic education) and circle time. The entire focus of my weekly assemblies in the autumn term was 'kindness and respect'.
At the end of a successful anti-bullying week last term, with a focus on kindness and celebrating difference, I awarded my first Head teacher golden stickers to girls in each class who were excellent ambassadors of the qualities we wish to instil.
We take very seriously our aim to help the girls become well rounded, responsible citizens of the future. We want them to feel proud of their progress and achievements but also to feel proud of being kind.
Conclusion
There are some building improvement plans afoot of which details are yet to be released. Other than that, the school largely remains unchanged under Ms Spencer and we are quite positive that under her expert and very able guidance South Hampstead Junior school will continue to thrive and rise both academically and pastorally.