Exclusive Interview with Ms Laura Hall, Headmistress of Queen's College Preparatory School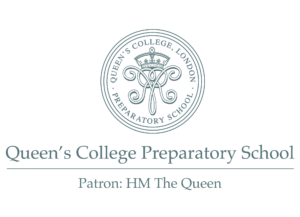 Introduction
Stepping inside Queen's College Prep, just a stone's throw from Regent's Park, I could feel a sense of calm and excitement at the same time. I was ushered through the colourful library and welcomed into Laura Hall's oasis of an office. An unexpectedly beautiful green room, with plants and a statement gold lamp. Extremely personable and bubbly, Mrs Hall told me she had decorated this office herself. With the role of headteacher, teaching metacognition as well as history to different year groups, reading with Reception on top of hosting after school clubs, I can see why such a sanctuary of calm might be needed! Refreshingly, for a headteacher, she is staunchly protective of her private time, making the most of days off to travel and visit galleries.  
After studying for an art history degree followed by a stint in marketing, Mrs Hall shared her passion for art history by giving lectures on cruise ships for several years and then fell naturally into teaching. In Scotland, her dad, a bursar at the local school, encouraged her to take a job looking after a child who needed one to one teaching and her career fell into place. Having spent eight years at City of London School for Girls, which she absolutely loved, she ended up as Deputy Head where she says she learnt a lot about teaching and where education is going. Now her close relationship with Richard Tillett, Principal of Queen's College, London (they speak daily, meet weekly)  is enabling her to put her vision of making a nurturing school environment with tip-top academics possible. They both believe in a well-rounded curriculum and making learning fun.  
 New to the school in September 2020, Mrs Hall has already revamped the curriculum wanting to get everyone's thinking truly engaged. She is trying out exciting new methods of teaching such as topic teaching. She is also on a diversity drive giving me the example of going deeper with our thoughts – learning about the experiences of Chinese immigrants during WW2 in London, not just the lives of white British families. With over forty nationalities represented in the pupils at the school – this definitely sounds like a change for the better. She is investing in new staff, having recently appointed an Assistant Head of Learning and Innovation. 
There is now Forest school and the girls are given as many opportunities to get outside as possible. Lunchtime in Regent's Park or the residents' gardens is encouraged and there are plans for timetabled outdoor learning lessons from September. The recent introduction of different physical activities such as kickboxing and karate is being integrated into the timetable.  Mrs Hall was excited to tell me about the relationship she has cultivated with the Royal Marine Commandos where the girls in Year 5 and 6 spend a day doing commando training along with three local state schools.  This is a wildly popular activity and has produced a sense of sensitive comradeship, teamwork, and showing the girls how to be cheerful in adversity. 
When asked what they are looking for in a Queen's College Prep girl, Mrs Hall said, potential, not polish. Some girls are incredibly academic, some fantastically creative others musical. Some are scientists and some brilliant performers. There is obviously a real range. Securing a place can start in May before their third birthday if you are keen on the early bird assessment (recently put in place for parents to have less anxiety and know where their child is going to go to school and not to miss out on those children who choose schools where they can be assessed earlier). Alternatively, (the majority) are assessed in  November after the child has turned three. They are looking for curious children, ones who can engage with adults, who are cheerful and happy.  A far cry from a sit down formal assessment. 
 And at the other end of the school, they want to give the girls as many exciting opportunities as possible. Laura is very keen to get across that although there is automatic entry to Queen's College they absolutely prepare children for other top tier and consortium schools too. They teach Year 5 and Year 6 children VR and NVR and practise assessment papers in a non-relentless way.  The girls interact with Queen's College girls a lot, for science lessons and big school productions. If the girls do choose to continue onto Queen's College at 11, Richard Tillett does one to one interviews with them ensuring the transition is very smooth.
 Laura is here for the long haul and wants to be at the forefront of education she is a huge advocate of girl only education. She believes girls are freer to make mistakes and be themselves and build confidence without distraction in an all-girl environment, but her future plans include making solid links with boys' schools for some social opportunities.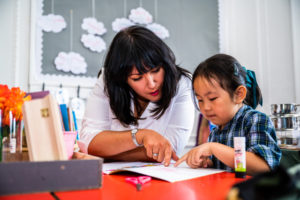 Question:
Could you describe the 4+ plus assessment, does it still involve spending a day in the reception class? What is a typical Queens girl?
Answer:
The 4+ assessment is a play-based assessment where the girls spend about an hour in school with other prospective pupils. Further up the school, we use short, age-appropriate tests, as well as references from their current school. We like to say that our ideal pupil is a kind, caring and intellectually curious girl.
Question:
Are you thinking of making a 7+ intake in addition to 4+?
Answer:
For the first time last year, we added a new formal intake point at 7+ to keep up with demand.
Question:
How far afield do girls usually travel from to get to the school?
Answer:
The majority of our families live in central London (particularly from the W1, W9, NW1, NW3 and NW8 postcodes) but some do travel from further afield.
Question:
Could you give examples of how you incorporate the wonders of London that are literally on your doorstep into your timetable for the girls.
Answer:
Every class enjoys a trip to a museum, gallery, theatre or place of interest at least once every half-term. All trips are inspired by our curriculum topics, and often, day trips will launch a topic to create a sense of awe and wonder. Additionally, from September 2022, we will be incorporating even more outdoor learning lessons into our timetable, so that, for example, our pupils will enjoy weekly science lessons in our private garden, history lessons on the steps of the Wallace Collection and art classes in Fitzroy Square. This year, our older girls will perform their annual drama production at RADA and we often use spaces such as the Cadogan Hall for our musical performances.
Question:
What are the advantages of being tied to such a prestigious secondary school? Are any of the facilities between the two schools shared?
Answer:
Our connection with Queen's College, London allows us to offer the 'best of both worlds' when it comes to our girls' options for secondary school.  On one hand, we are a 'Prep' school in the truest sense of the word, in that we offer outstanding preparation for successful 11+ entry to a wide range of leading day and boarding schools; but we also provide the attractive option of an automatic place at our senior school, Queen's College, London for those girls who choose to avoid the 11+ process. Regarding facilities, we often use the theatre at the College for our larger productions and the girls in the Prep (Year 3 – 6) will go to the College for science and art workshops throughout the academic year.
Question:
What is your vision for the future of QCPS? Is it still selective? Has it moved towards a more academic approach? What has inspired the change in ethos?
Answer:
We're moving towards a less traditional, more innovative academic approach, without losing the special 'hygge' feeling of the school and our excellent provision in the creative arts. Staff development is key to this, and action research projects in conjunction with UCL will further allow our teachers the opportunity to develop our curriculum and be at the forefront of 21st-century teaching. We continue to be academically selective, with play-based assessments taking place for Reception entry with more formal assessments for Year 1 upwards.
Question:
Do you have any links with the other local prep schools – in particular boy prep schools? What if any is the social interaction between them?
Answer:
We are looking to develop a more formal relationship with a boy's Prep school in the next year so that our girls can benefit from the social opportunities this will bring.
Question:
Has the school appointed a Head of Learning support? With a lot of foreign pupils, do you find you have quite a transient intake?
Answer:
Our Learning Support department was established in 2018 with a Head of Learning Support and Learning Support Assistant. It has since expanded to a team of 3. The department plays a vital and integral role at QCPS; we pride ourselves in the knowledge that we get to know the girls that we teach as individuals. We provide caring and expert support so that any pupil, irrespective of their individual needs, can reach their full potential, be challenged and extended where needed and improve their self-esteem, preparing them for life beyond QCPS. We are proud of our diversity here at Queen's with over 40 nationalities represented in our community. Most of our families are settled in London, however, we do occasionally have families relocating abroad so it's always worth asking about occasional places.
Question:
Do the girls participate in any extracurricular community-based projects? Any community outreach programmes?
Answer:
Our pupils take part in a variety of community projects, most recently including fundraising for the Fitzrovia Community Centre and the Little Village charity. Our girls are very passionate about the environment and regularly campaign for eco improvements in the local community; one of our pupils is even on the National Eco Committee run by Eco Schools England. In Form VI, pupils take part in our own DofE-inspired Leavers Award, where community volunteering is a significant aspect of the programme.
Question:
Are any of your subjects, especially in the older years, set, or are the classes all mixed ability?
Answer:
From Form V, our pupils attend study skills lessons in both English and maths, which are streamed in accordance with the schools they are considering at 11+. Otherwise, our girls are in mixed ability classes for all subjects. Those requiring to be supported or stretched are done so through high-quality teaching, expert teaching assistants and team-teaching further up the school.
Question:
How do you ensure that all the children find an appropriate next school for them? How many move on to Queen's? Are all pupils given an automatic place there?
Answer:
Typically, about half our pupils choose to join Queen's for senior school and the other half achieve great success at 11+ entry to a range of other excellent schools. (This is in contrast to most London 'junior' schools where they assume 95% of their pupils will enter their own senior school and so don't offer 11+ preparation, and of course, puts us in a much stronger position than other 'Prep' Schools who don't have a special relationship with their own senior school.)
Question:
What systems have you set up to give advice to children who are not planning to go to Queens College at 11 + ? Do you use any progress or adaptive tests of who goes where?
Answer:
We begin conversations with parents in Form IV about senior schools and support them throughout the process to find the most suitable school for their daughter. Around half of our pupils sit for other top London schools. We use our own analytics to determine which schools girls might be successful at, based on years of collated assessment data, combined with our knowledge of each child's interests, talents and needs.
Conclusion
A vision of hygge, is how Ms Hall describes QCPS, and walking around this school one definitely feels as if they are being given a big hug. The staff that I met were warm and friendly, they seemed loyal, kind and well looked after. One FormTeacher described the school as an extension of her family: cosy and welcoming. The school's code of conduct (do be kind, do be gentle, do be fair) was reflected in everything I saw. It was Thrive Week,  the children could dress down, the teachers were invited to have massages, there was yoga even smoothie making workshops.
The building is deceptively large, if a little confusing in layout, but the bright expansive classrooms with intricate artistic architrave on the ceilings and the two big staircases that divide the school I am sure would become second nature to any child that schools there. They have a beautifully curtained assembly hall adorned with pillars. It was being dressed for a drama lesson on my visit, the children are preparing for their summer show of  a The Little Mermaid.  Handwritten displays of artwork lined the walls. The art room is impressive, a vast space filled to the brim with colour and equipment, preparations being made for an art summer workshop. The STEM lab was brimming with 3D printers, computers and robotics and felt exciting. I was told about their learning support department which champions learning enhancement as well as gifted and talented children. I listened into a philosophy lesson where children were eagerly listening and participating.
The basement was abuzz with activity as the children where happily taking their lunch break. Mrs Hall pointed out this was an underutilised and tired space and told me proudly about having secured planning permission for this Summer to have a massive refurbishment. Turning the room into a Nordic restaurant-style dining hall; think Noma in Copenhagen, a science garden and a brand new kitchen, so that food can be prepared freshly on site. Already flourishing academically and whirring with Mrs Hall's new ideas, there are a lot of exciting prospects at this international and nurturing London prep school.